Our comprehensive service
Wij denken met je mee, helpen je met je bestelling en tekenen je poort en/of hekwerk voor je uit. Zo weet jij zeker dat wat we speciaal voor jou maken ook gaat worden zoals jij dat wenst!
Lees hieronder over onze service en werkwijze, wanneer we speciaal voor jou een écht Thibo hekwerk gaan maken.

1. Een advies op maat
De hekwerk experts van Thibo Online helpen je graag verder en adviseren je geheel vrijblijvend over de beste oplossing voor jouw situatie. Telefonisch of per mail, geen probleem! Je helpt ons daarbij enorm met foto's of een schets van de situatie, zodat we een beeld krijgen van hoe je hekwerk of poort moet komen te staan.
Iedere situatie waarin een hekwerk of poort komt te staan is anders. Zo ook jouw situatie. Een standaard oplossing biedt daarbij vaak nét niet de oplossing die jij je wenst. Het zal je daarom wellicht niet verrassen dat meer dan 70% van onze poorten en hekwerken op maat en naar klantwens wordt geproduceerd. Want dáár zijn we de beste in!
De prijs van maatwerk
Dat we iets speciaal voor je op maat maken betekent niet perse dat de prijs veel hoger ligt dan een vergelijkbare standaard uitvoering van het hekwerk of de poort.
Veel hekwerken en poorten worden toch al op klantbestelling geproduceerd. Het is voor ons daarom een kleine moeite om jouw wensen te verwerken in je hekwerk of poort.
Voor een poort of hekwerk op maat betaal je in de meeste gevallen de prijs van de eerstvolgende breedte of hoogte.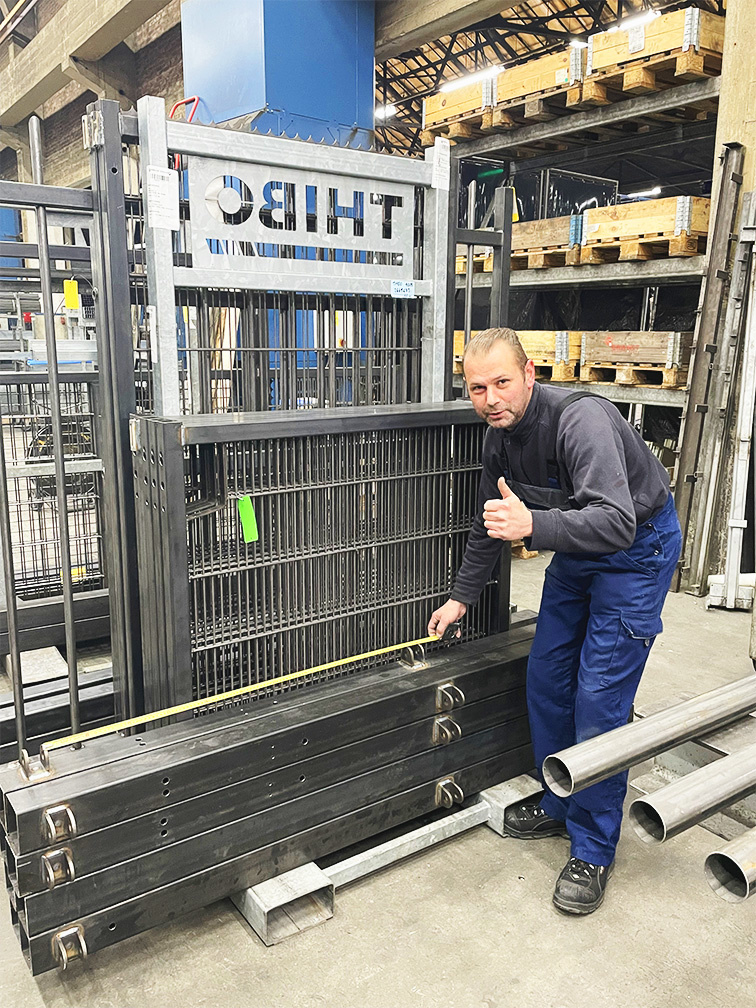 2. We helpen je met bestellen
Omdat maatwerk per definitie al niet standaard is, helpen we je ook graag met de uiteindelijke bestelling. Wij voeren deze voor je in en sturen je per mail de bevestiging van je bestelling een mail met daarin een handige betaallink. Zo houden we lekker de snelheid erin, zodat we snel voor je aan de slag kunnen!
Als je bestelling definitief is sturen we je alvast een voorlopige leverdatum. Dan heb je een beetje een idee van wanneer we bij je komen leveren. Deze leverdatum is gebaseerd op de levertijd vermeld op de product pagina bij het hekwerk of bij de poort die je wil bestellen.
3. Het ontwerp van onze engineers
Alle bestellingen waarbij een hekwerk of poort geproduceerd moet worden, lopen via ons technische engineers. Zij tekenen alles uit. Zowel de onderdelen van het hekwerk of poort, als een overzicht van de hele situatie. 
Deze tekening krijg je van ons ter controle per mail toegestuurd. Je ziet direct hoe je hekwerk of poort eruit komt te zien. Klopt er iets niet of moeten we nog iets voor je aanpassen? Geen probleem! We voeren de wijzigingen door, sturen je nogmaals de tekening en vragen opnieuw om je akkoord. Tevreden? Mooi! Niets liever dan dat! We gaan je bestelling produceren!

4. De assemblage
Zodra je bestelling geproduceerd is, gaat deze, na een grondige controle, door naar onze assemblage afdeling. Daar monteren we je poort of hekwerk zover als mogelijk af. Het slot zetten we in de poort, de slotvanger zetten we in de juiste richting op de aanslagpaal, eventuele montagegaten worden voorzien van schroefdraad de grondgrendel bouwen we alvast voor je in je dubbele poort. Daarna wordt je bestelling zorgvuldig verpakt en klaargemaakt voor verzending.
5. Het afhalen of de levering
Je bestelling staat nu om af te komen halen. We sturen je per mail de datum vanaf wanneer je kan komen afhalen. Heb je voor bezorging gekozen? Ook dan informeren we je natuurlijk wanneer je bestelling geleverd gaat worden.
We leveren je bestelling volgens de gekozen verzendmethode tot aan "de drempel", ongelost (vaak zakelijk, wanneer je de beschikking hebt over een heftruck) of gelost (wij zorgen ervoor dat er een heftruck meegaat met de vervoerder om je bestelling uit de vrachtwagen te halen).
Zo! Het "voorwerk" hebben wij nu voor je gedaan. Het échte werk kan beginnen! Het installeren van je poort of hekwerk. Dit doe jij zelf of met hulp van anderen. Heel veel succes daarbij en veel plezier van je poort of hekwerk!
6. Het resultaat: Made in the Netherlands
Je ziet het (helaas) niet vaak meer op een product staan: "Made in the Netherlands". Nou, jouw hekwerk of poort wordt volledig in Nederland aan de Thibostraat in Beek en Donk ontwikkeld en geproduceerd. En daar zijn we trots op! 
En trots willen we jou ook maken. Trots op je hekwerk of poort, met een perfecte passing, een sublieme werking en een verbluffende uitstraling.
En dát van eigen bodem, met veel enthousiasme gemaakt vóór jou, dóór de ruim 100 collega's van Thibo Online!

Veilig en zorgvuldig van ons naar jou: de verzendkosten
Eventueel worden voor je bestelling verzendkosten in rekening gebracht worden. De hoogte van deze kosten hangt af van het volume, gewicht en waarde van je totaalbestelling. Indicatief worden onderstaande verzendtarieven (voor NL) gehanteerd (incl. btw).