Add your review
Review Double design Swing gate Modius Modeno V60
The image above is for illustration purposes only and does not necessarily belong to the version or variant of this product you have chosen.
Double design Swing gate Modius Modeno V60
.
€1.900,00
(€2.299,00 Incl. tax)
With its elegant, timeless and sleek design, the Modius design gate is the showpiece of Thibo Online. The Modeno V60's diagonal 6 cm vertical aluminum profiles ensure privacy from one side and openness from the other.
10-12 weeks

Minimum order quantity is 1 piece(s)
Our service, your convenience
.
Delivery on a specific day or time?

Ask for the possibilities

Delivery at project location?

One of the service possibilities of Thibo

Questions about this product?

Feel free to contact us | Tel: +31492471317

Interested in this product?

Click on ♥ next to the order button to add to your wish list
Double design Swing gate Modius Modeno V60
This stylish aluminum design Swing gate comes with a structure coating as standard for a chic look and corner profiles to prevent peeking between the wing and the posts. The welds in the corners have been ground for a seamless finish.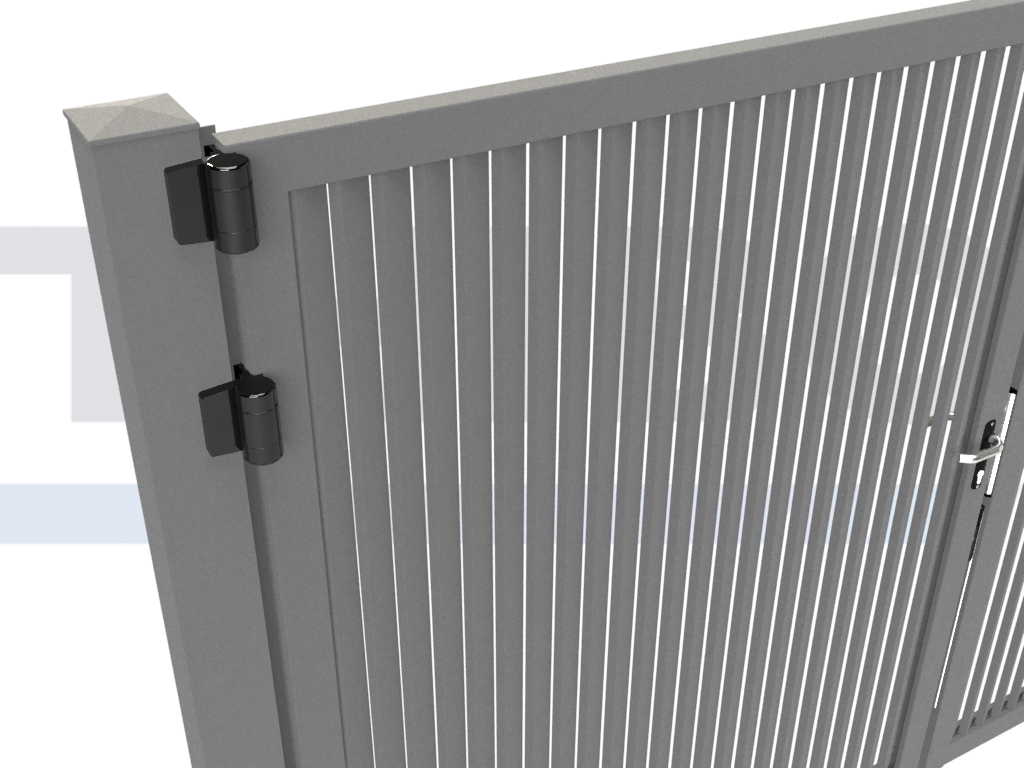 Wings from 2000 mm wide are provided with an extra vertical profile positioned in de center.
The gate wings are supplied fully assembled, so that during installation only the posts have to be placed in the ground and the wing has to be mounted on the hinge post together with the slender black hinges. The steel posts are prepared for the hinges and the catcher is pre-assembled. The plastic cover caps ensure a beautifully finished whole.
The gates of 2000 and 2500 mm width are provided with two Locinox Dino hinges per wing. Gates wider than 2500 mm are equipped with three hinges per wing. The solid hybrid lock is neatly incorporated in the lock profile and the dead bolt hooks into the catcher so that the wings cannot be pulled apart for extra safety.
The gate is available in the following (standard) RAL colors:
Ral 6005 (moss green)
Ral 6009 (fir green)
Ral 7016 (anthracite gray)
Ral 9005 (jet black)
Ral 9010 (pure white)
Other colors are of course possible, but on request.
| | |
| --- | --- |
| Material | Wing: aluminum | Posts: steel |
| Frame profile | 72 x 50 mm |
| Ground clearance | 50 mm |
| Width 2000/2500 | Posts 100 x 100 mm, 2 hinges |
| Width 3000/4000/5000 | Posts 120 x 120 mm, 3 hinges |
| Posts | 800 mm extended |
| Hinges | Stainless steel threading hinges |
| Serrure | Serrure à encastrer hybride, avec crochet en acier inoxydable et pêne demi-tour réglable |
| Gate closers (incl.) | No |
| Coating | Texture |
| Post caps | Plastic |
| Drop bolts | 1 pc. type Locinox Suby |
| Ground stop | Concrete - included |