Maintenance and cleaning products
With Novatio's maintenance and cleaning products, Thibo Online has the best products to keep your fencing and gates as new. Easily maintain and remove natural and chemical contamination, grease stains, oils, insect marks, etc.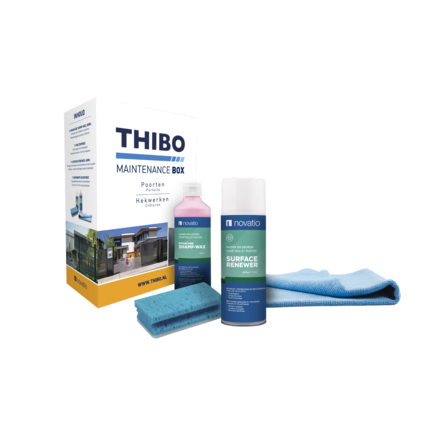 The coated surface of a gate or fence has a lot to endure. After all, it is continuously exposed to air pollution, such as dust / sand and acid rain (Volatile Organic Compounds), in addition to UV and infrared radiation from the sun. The layer becomes matte and / or "chalked". A dull, white powder layer forms, which becomes increasingly deeper in the paint and can irreparably damage the surface in the long term. To prevent this damage, it is important that your gate or fence, just like a car, is properly and regularly maintained, even if it is not old yet.

Thibo Online only works with the best maintenance and cleaning products available on the market. Products ideally suited for fences and gates, but also for other painted or powder-coated materials, such as window frames, (garage) doors, as well as plastics.