Sinds afgelopen jaar is Thibo twee collega's rijker. Rob Verkuijlen en Nino van Gerwen. Zowel opa Jan van Rob, als opa Jan van Nino werkten twee generaties terug ook voor Thibo! Een mooie gelegenheid om opa's eens uit te nodigen bij het huidige Thibo.
Jan van Gerwen en Jan van den Elzen waren op donderdag 10 december 2019 te gast bij Thibo. Ondanks dat het al een flinke tijd geleden was, voelde het nog steeds als thuiskomen. Beide heren hebben namelijk lang (resp. 40 en 32 jaar) voor Thibo gewerkt, of zoals de heren zeiden "aanwezig geweest". "Ach Jantje, jij ook hier!" Was het eerste wat ze tegen elkaar zeiden. Want zo noemde ze elkaar.
De dag begon met het ophalen van mooie herinneringen en het bespreken van oud collega's, wie er nog werkte en wie niet meer. Er wordt terug gekeken op een mooie tijd.
"Het was mooi werken en het bedrijf bood mooie doorgroeimogelijkheden", herinnerden ze zich nog. Jan van den Elzen beweerde dat Jan van Gerwen nog een mooie loonsverhoging aan hem te danken had. Volgens Marika van de Burgt (HR) "buurtte" (lees: kletste) Jan van den Elzen 32 jaar geleden ook al zo veel! Kortom het was een gezellige middag, maar ze waren er natuurlijk niet voor niets.
Dat beide opa's, bij Nino ook zijn vader, bij hetzelfde bedrijf hebben gewerkt als waar nu een derde generatie werkzaam is, is voor deze tijd erg uniek. Zo uniek, dat het voor ons reden genoeg was om iedereen eens samen te brengen om eens gezellig bij te praten over de tijd van toen en van nu. De mannen gaven direct aan dat het destijds heel normaal was dat heel de familie bij hetzelfde bedrijf werkte. Net zo gewoon als het badhuis van Thibo waar vroeger gebruik van werd gemaakt. Bijna niemand had vroeger immers een douche thuis. Ook kregen ze een schroot premie, een soort bonus die de werknemers kregen als al het afval netjes opgeruimd was. Dat pakte ze dan als volgt aan: Jan van den Elzen, destijds chef expeditie, stuurde dan Jan van Gerwen, destijds heftruckchauffeur, met een grote bak spijkerafval richting de Aa (klein aangrenzend riviertje), zodat hij het daar in kon kieperen, op deze manier hadden ze mooi hun bonus verdient! Tegenwoordig verloopt de verwerking van restafval toch wel iets anders.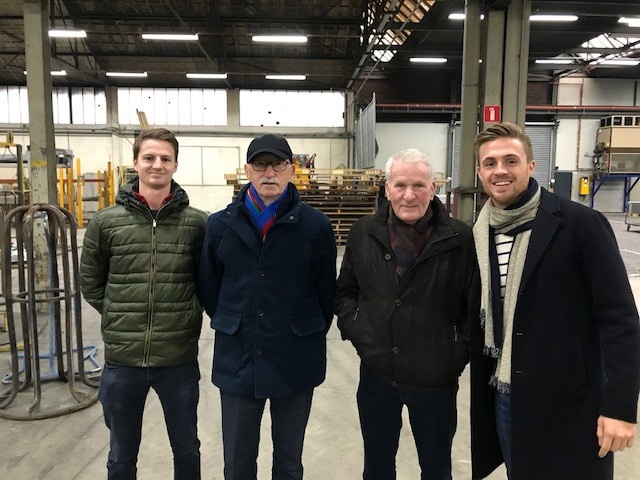 Ook Ralph Beukers, algemeen directeur van het huidige Thibo, kon zich nog mooie verhalen herinneren over Italiaanse hammen wat Jan van den Elzen rood deed aanlopen. Hij wist precies hoe dat zat met die hammen. Nou, het zat zo, Thibo had destijds ook Italiaanse leveranciers. Deze stonden erom bekend om zo nu en dan eens wat extra's met de zending op de wagen mee te sturen. Daar was iedereen bij de expeditie natuurlijk goed van op de hoogte. De ene keer zaten er een paar flessen wijn bij en de andere keer een lekkere Italiaanse ham. Zodra de mannen zagen dat er weer een vrachtwagen vanuit Italië binnen kwam, schoten ze met zijn alle richting de wagen! Want wie wil er nou niet zo'n lekker Italiaans hammetje?
Na de koffie konden "de Jantjes" tijdens de rondleiding de fabriek in zijn huidige hoedanigheid zien. Er is natuurlijk veel veranderd sinds de tijd dat zij nog bij Thibo werkten. Samen kwamen ze tot de conclusie dat er anno 2019 nog maar een paar dingen over zijn, namelijk: de gaaslasmachines, machine 55 (destijds de naam van een bepaalde machine) en een aantal trouwe klanten. Jan van den Elzen wist nog precies met zijn vinger op tafel na te tekenen wat de opstelling was van machine 5, 9, 15 en meer.
Ondanks de vele veranderingen is er een ding wat nog, of weer, gelijk is, namelijk de naam Thibo. Per 1 januari 2020 is de naam Hitmetal verandert naar Thibo. We hebben de mannen gevraagd wat zij hiervan vonden.
"We vinden het enorm leuk om te horen dat de naam weer verandert is, terug naar Thibo. Hitmetal zegt ons niet veel en met Thibo zijn wij, en de hele regio hier, vanaf kinds af aan opgegroeid."
Ook Ralph Beukers vindt het leuk dat het bedrijf de naam verandert. "Het is een enorm mooi bedrijf en de kernwaarden kwaliteit, service en betrouwbaarheid nooit uit het oog verloren gegaan". Daarnaast hoopt hij hiermee net zoals vroeger weer nieuwe jonge mensen aan te kunnen trekken. "Er is weinig verloop en het bedrijf is een stuk groter geworden". Jan van Gerwen: "als je eenmaal bij Thibo binnenloopt blijf je er hangen".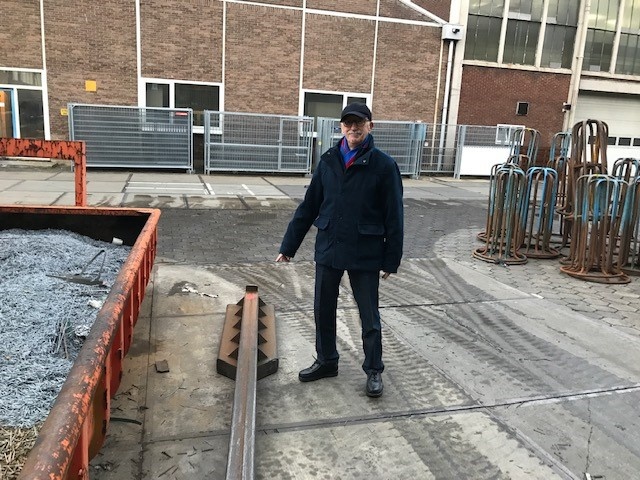 De middag was rond, we hadden veel gelachen en gesproken over mooie herinneringen. We hebben de mannen met een lach uitgezwaaid en we hopen ze nog eens terug te zien.