De coating van bijvoorbeeld een hekwerk is in de laatste jaren flink veranderd. Voor diegenen die er (nog) niet zo veel kaas van hebben gegeten en/of de trends niet hebben bijgehouden, laten we in deze blog zien wat de trends en ontwikkelingen zijn op het gebied van coating.
Coating is niet meer weg te denken uit de staal- en hekwerkindustrie. Naast de vele kleuren die beschikbaar zijn, kent coating nog een veel grotere verscheidenheid. Zo is er o.a. verschil in hardheid, glans, krasvastheid etc. De markt blijft zich ontwikkelen en daarnaast blijft men op zoek naar unieke producten. De coating van bijvoorbeeld een hekwerk is in de laatste jaren flink veranderd. Voor diegenen die er (nog) niet zo veel kaas van hebben gegeten en/of de trends niet hebben bijgehouden, laten we in deze blog zien wat de trends en ontwikkelingen zijn op het gebied van coating. Maar voor we dit doen, nemen we je eerst even mee naar wat coaten überhaupt is.
Wat een coating?
Heel plat gezegd is coating een laag die je hekwerk voorziet van een kleur en bovendien het product een extra bescherming biedt tegen invloeden van buitenaf. Coating alleen is echter niet genoeg voor een 100% bescherming. Coating is namelijk poreus. Die mooie kleurlaag zit vol minuscuul, voor het oog onzichtbare, kleine gaatjes, zoals poriën bij de menselijke huid. Door deze gaatjes kan vocht onder de coating komen, loslaten en daarmee kan het onderliggende materiaal gaan roesten. Het is dus cruciaal dat er onder de coatlaag een goede beschermlaag zit, meeste een zinklaag, die alvorens coating wordt aangebracht zeer goed (chemisch) voor behandeld wordt, voor een ultieme hechting!
De hekwerken en onderdelen van Thibo Online worden gepoedercoat. Het product van staal of aluminium wordt elektrostatisch geladen, waarna de coating in poedervorm met een "min-lading" aan het product geplakt wordt. Hierna wordt deze poederlaag in een grote oven als het ware aan het product gebakken, waarna het, eenmaal droog en uitgehard, niet meer loslaat. Er is een spiegelglad oppervlak ontstaan!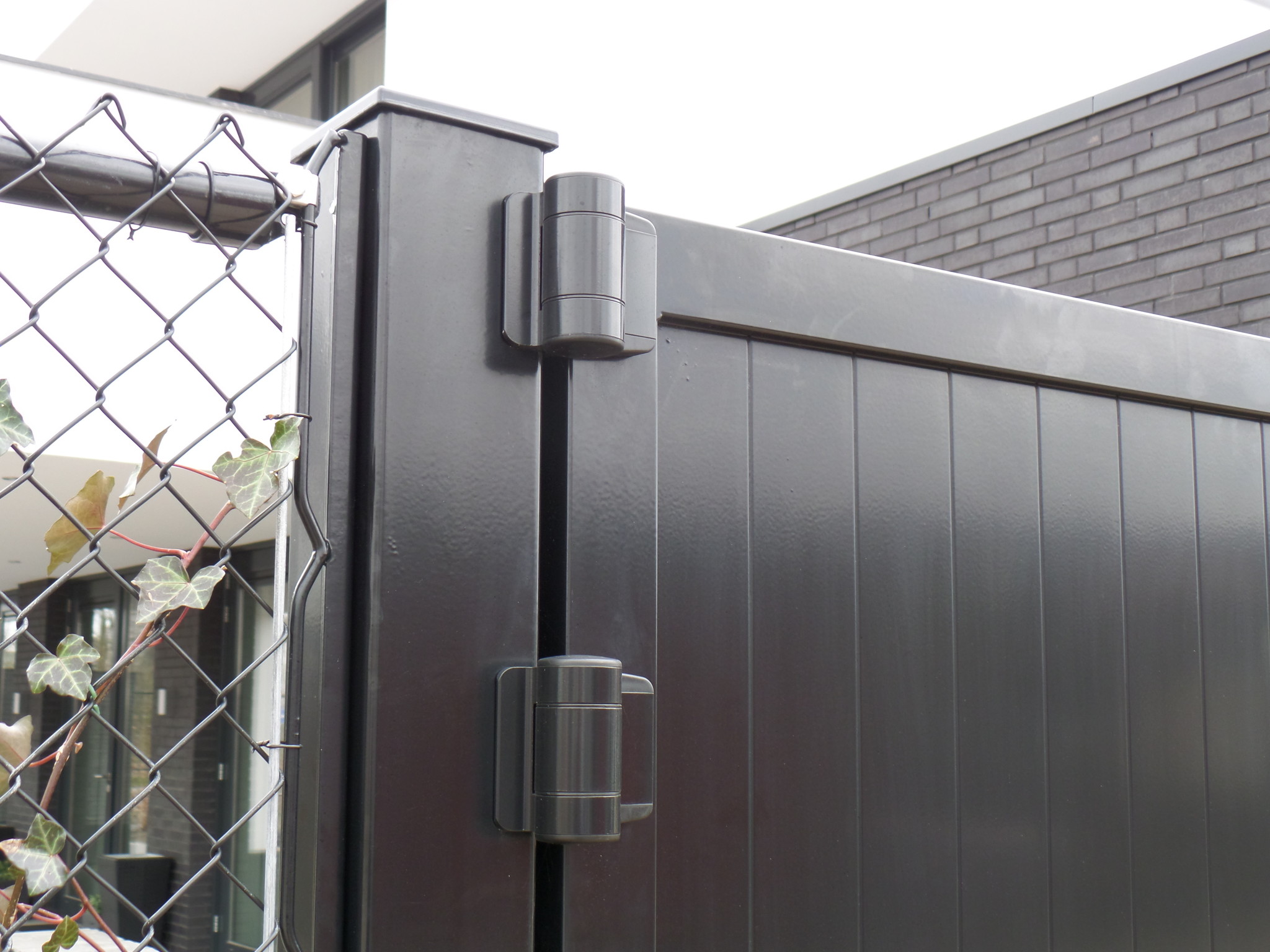 Coaten door de jaren heen
1. Waar het allemaal mee begon ca. 70 jaar geleden
Het is natuurlijk allemaal begonnen bij het verven van de hekwerken. Een blank of verzinkt hekwerk is niet altijd mooi en mensen begonnen al snel met het verven van hun hekwerk. Maar goed, staal en verf is niet altijd een even succesvol huwelijk gebleken. Zo blijft de verf niet goed zitten en is het resultaat sterk afhankelijk van de persoon die de kwast in z'n hand heeft! Dus moest er op zoek gegaan worden naar een oplossing.
Aan het eind van de jaren 40 werd het zogenaamde wervelbedproces ontwikkeld voor het verwerken van thermo-hardende poedercoatings. Destijds werd poedercoating enkel gebruikt voor functionele toepassingen, zoals het behandelen van bootaccessoires, metalen meubels en wasmanden. Dat "het oog ook wat wilde" was op dat moment nog niet zo belangrijk. De coating was dik en daarmee lastig te verwerken voor andere toepassingen. Men vindt de oplossing in elektrostatisch poedercoaten, wat zijn oorsprong vindt in Amerika.
Tussen 1966 en 1973 werden er vier basistypen thermohardende harsen ontwikkeld, die op de dag van vandaag nog steeds worden toegepast. Dit zijn: epoxy-, epoxy-polyester hybride-, polyurethaan- en polyester (TGIC)harsen. Het aantal poedercoatingfabrieken in Duitsland alleen al steeg van vier in 1966 naar 51 in 1970. Vanaf de vroege jaren '70 heeft het elektrostatisch poedercoatproces, het proces dat Thibo Online zoals gezegd ook hanteerd, over de hele wereld terrein gewonnen. Tot begin jaren '80 verliep de groei nog langzaam omdat de spuitapparatuur duur was en er slechts een beperkte keuze in kleur en glans was. Daarna nam de groei echter explosief toe en heeft de techniek het traditionele spuiten op de meeste toepassingen verdrongen.
2. De eerste coatingen
Een hekwerk is niet het enige wat gecoat kan worden. Er zijn ook een hoop andere materialen die gecoat kunnen worden, zoals hout, papier, glas en veel meer. Het coaten van producten werd in andere industrieën al volop gedaan. Denk aan auto's, landbouwmachines, radiatoren etc. Waarom dan geen hekwerk dacht men? Zo gezegd zo gedaan, en de eerste hekken werden al vrij snel gecoat. De hekken waren dan vaak  glans groen zodat het beter in de omgeving zouden passen.
3. Coaten bevalt en men wil zich onderscheiden
Het coaten van de hekwerken slaat aan. Iedereen vind het geweldig en er wordt zelfs geëxperimenteerd wat betreft kleur. De kleuren zwart en antraciet komen steeds meer voor. Men stemt het hekwerk af met de kleuren toegepast bij (de bouw van) het huis. Zwartgrijs (Ral 7021), maar ook zuiver wit (Ral 9010) of staalblauw (Ral 5011) laten zich steeds meer in het straatbeeld zien. Men laat zich niet leiden door wat standaard is, maar kiest voor een unieke identiteit van het hekwerk. Bedrijven en sportverenigingen willen hun kleuren doortrekken tot in het hekwerk. Niets in onmogelijk!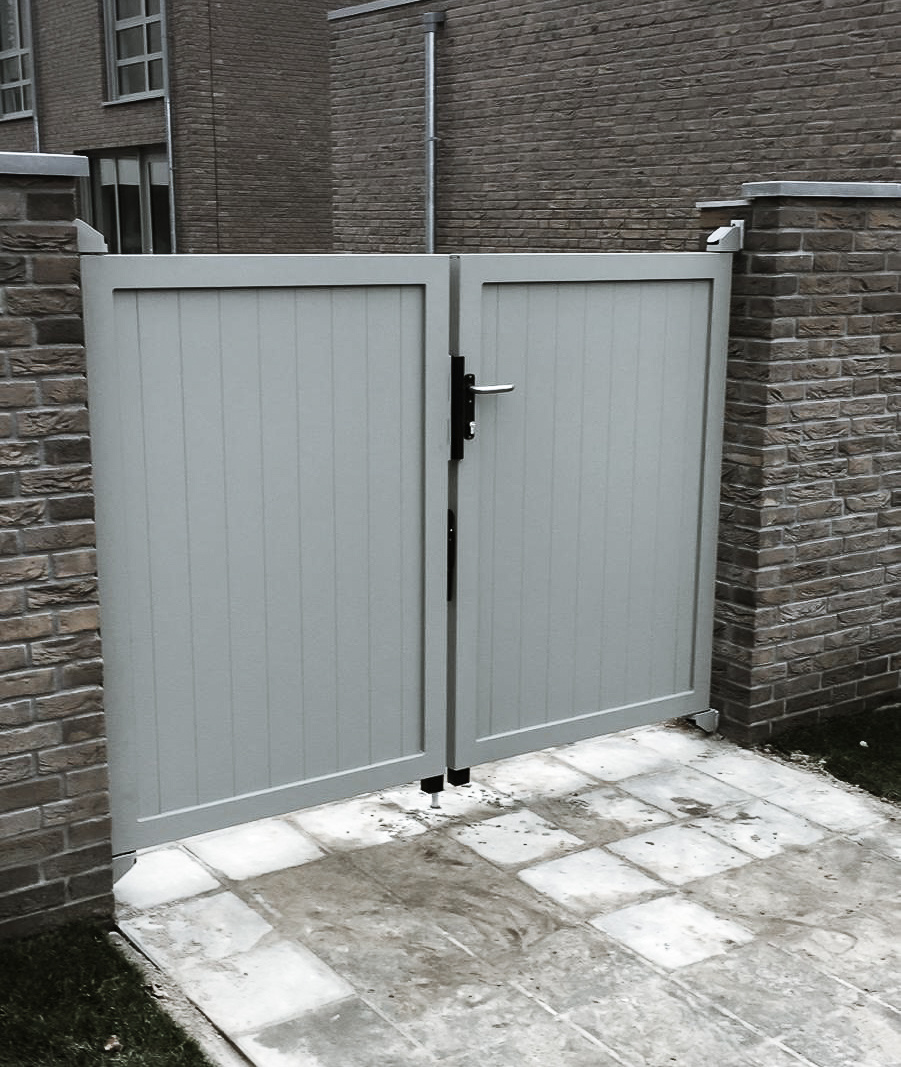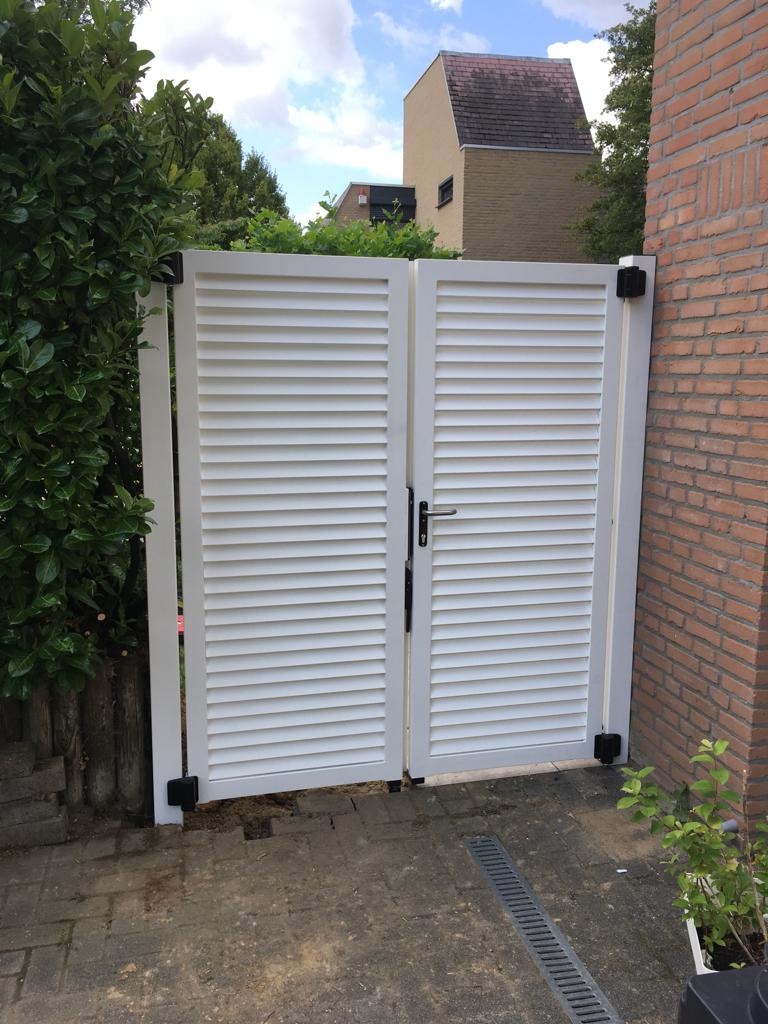 Samenstelling coating ter discussie door Chroom 6 affaire
(Oud)werknemers van o.a. defensie en de Nederlandse Spoorwegen worden ziek. Uitvoerig onderzoek toont aan het de ziekte te maken heeft met hun werkzaamheden bij de behandeling en herstel van voertuigen. In de gebruikte verf en coating blijkt de giftige en kankerverwekkende stof Chroom 6 de boosdoener. Al snel wordt in de coatwereld actie ondernomen en deze stof vervangen door een andere, niet giftige variant en wordt gekeken naar oplossingen om dezelfde kwaliteit te waarborgen.
Hekwerk een esthetisch verlengstuk van woning, tuin en omgeving
Waar sierhekwerk steeds meer naar de achtergrond verdwijnt en men liever geniet van een meer moderne en stakke uitstraling van het hekwerk, verandert ook de "look" van de coating. Niet alles wat blinkt is meer goud. Glans maakt plaats voor mat. Je ziet het o.a. ook in de auto industrie. Enkele jaren geleden hadden we het ons niet kunnen voorstellen: een matgelakte (of gewrapte) auto! Inmiddels niet meer weg te denken.
Ook hekwerken en poorten worden door Thibo Online steeds meer gecoat met een modern ogende matte poedercoating. Naast het vaak oogverblindende resultaat en de uitstraling die een mat gecoate poort met zich mee brengt, is de coating harder, slijtvaster en ook makkelijker en onzichtbaar bij te werken na beschadiging. Voor enkele producten, zoals de Modius draaipoortenlijn, heeft Thibo Online al standaard voor deze coating gekozen om het product nóg meer cachet te geven.
Hoewel de geschiedenis van coating al decennia oud is, het principe is nog altijd hetzelfde en het doel ook: de wereld nét even iets mooier maken!
Thibo Online